Mumbles Pier hosts VIP fun day for local families, following 'Wish' granted by charity initiative Tickets2Wishes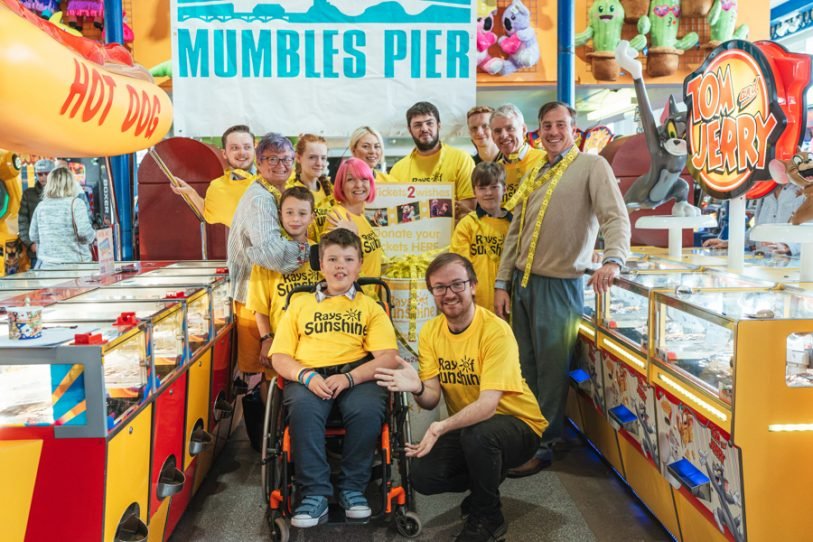 Credit: Flashbulb Photography & Film
On Friday 9th August, Mumbles Pier hosted a VIP day with local families who have benefitted from a Rays of Sunshine wish. The event was part of the Tickets 2 Wishes scheme run by bacta, the UK's trade association for the amusements industry.
Local Swansea MP and Rays of Sunshine advocate, Carolyn Harris, was in attendance for the day. As part of the event, families who have been granted a Rays of Sunshine wish enjoyed a VIP day out at the Mumbles Pier. A cheque for £1,000 was presented to Tickets 2 Wishes from funds raised by Mumbles Pier and their customers.
Tickets2Wishes is a National scheme that enables customers visiting Mumbles Pier and many other Locations around the country to donate any leftover Prize tickets to Rays of Sunshine which are then used to grant wishes for children battling serious and life-limiting conditions.
10-year old Daniel was in attendance on Friday with his family and enjoyed a day out at Mumbles Pier. Daniel had been granted a wish by Rays of Sunshine and visited Legoland for their Christmas activities and Lapland UK to see Santa Claus.
Bacta is a long-term charitable supporter of Rays of Sunshine, to date, bacta members have raised £500,000 through its charitable trust and partnership with Rays of Sunshine.
Carolyn Harris, MP for Swansea, said: "It's incredible to see such wonderful charitable giving through bacta and Rays of Sunshine's initiative, #Tickets2Wishes, helping families and children with life limiting conditions experience a fun day out – thank you for supporting Swansea in this way."
John Bollom Chairman of Mumbles Pier said: "We are proud to be the hosts for the families who have been supported by the amazing charity Rays of Sunshine and extremely proud as a local family business to be a part of BACTA and the #Tickets2Wishes campaign to help other families and create important memories for them."
Jane Sharpe, CEO of Rays of Sunshine said: "We are so grateful for the #Tickets2Wishes initiative and to Mumbles Pier for their ongoing support and for organising such a fun-filled day for Lydia and Daniel and their families. It is only with the support of our valued partners, like bacta, that we can continue our work to brighten the lives of seriously ill children. Thank you to all the customers who have donated their tickets to grant magical wishes and create special memories"
James Miller, President of bacta said: "Tickets2Wishes is a fantastic charity initiative that brings together bacta members, who mainly operate family-run businesses, and local families that have recently had their wish granted by Rays of Sunshine. Bacta is all about family and friends coming together to make memories, and by supporting Rays of Sunshine through the Tickets2Wishes scheme we can bring deserving families together for family days out that they won't forget."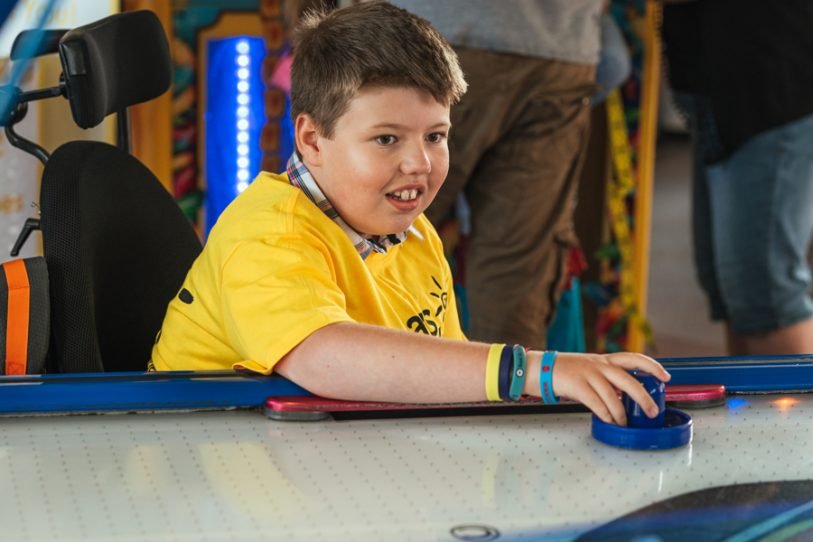 About Rays of Sunshine
Rays of Sunshine Children's Charity was formed in 2003 to brighten the lives of seriously ill young people and their families across the UK by granting wishes and providing ongoing support in hospital and within the community. www.raysofsunshine.org.uk. Over 6,500 wishes have been granted since the Ray of Sunshine Children's charity was formed and their work has touched the lives of more than 60,000 children and young people, not to mention their siblings and parents. Rays of Sunshine has appointed its first Health Play Specialist at University London Hospital and is proud to be a part of such an amazing cause.
About bacta
Bacta is the trade association for the UK's amusement and gaming machine industry. It represents the interests of over 500 companies and 34,000 employees, among those who manufacture, supply and operate amusement machines. Its members, who range from large manufacturers to suppliers of machines, and the owners of seaside Family Entertainment Centres and over-18 Adult Gaming Centres, have a collective turnover of £1.6 bn. with a contribution to the economy approaching £2 bn. For further information, visit: www.bacta.org.uk
About Mumbles Pier
The Mumbles Pier has been part of Swansea since 1898, a family run business the Pier is one of very few privately owned Piers left in the UK. Once a station for the world-famous Mumbles Railway, Mumbles Pier has seen many decades of changes, a gateway to the Mumbles Lighthouse and home of the Mumbles RNLI station the site is steeped in a rich history and continues to be a seaside tourist attraction for families across the UK. The Pier is one of Swansea's most famous Victorian landmarks. The 835ft structure has been a defining feature of Swansea Bays landscape for over 100 years. In 2012, the pier took on one of its most ambitious renovation projects to date, with the creation of a new lifeboat house and fishing platforms. Steeped in history and filled with many memories come take a look as we continue our work to bring the pier back to its former glory; as the crown jewel of Mumbles. For more information visit www.mumbles-pier.co.uk