Last month we were thrilled to open our brand new gift shop and ice cream parlour 'Beaches & Cream'.
The shop has something for everyone and features a wide range of gifts, toys and classic seaside snacks.
We have a section dedicated to home ware with some amazing pictures, quirky lamps and other decorative ornaments that can bring the warmth of sunshine and the feel of the seaside in to any home.
We also have our new ice cream stand with flavours like 'Chocolate and Banana', 'Mint Chocolate Chip, and the classic 'Strawberry'. But if ice cream isn't your thing then we have plenty of other options available including shortbread, chocolate, sweets and of course rock.
'Cardiff Mummy Says' Visits the Pier
We recently welcomed blogger 'Cardiff Mummy Says' and her family to the Pier for a whole day of fun.
As 'Cardiff Mummy' actually met 'Cardiff Daddy' in Mumbles over twenty years ago, they were delighted at the opportunity to bring their young family back to where it all began for them.
Despite the fog on their drive in to Mumbles the sun soon came out and was shining down over the Swansea Bay as we showed them around the Pier and gave them an idea of everything there was to do during their visit.
They ended up spending five and a half hours with us, making the most of everything the Pier has to offer including the amusements, Copperfish restaurant, the bowling alley and our private beach.
Click on the video below to watch a video of 'Cardiff Mummy Says' and her family day out at the Pier.
;rel=0">
Product of the Month
Our product of the month in June is our range of doorknobs from the Beaches and Cream gift shop. They are available for just £3.95 throughout the month of June.
The Beaches and Cream gift shop has a collection of gifts including souvenirs, confectionery and household items that are a perfect way to remember your day the Pier.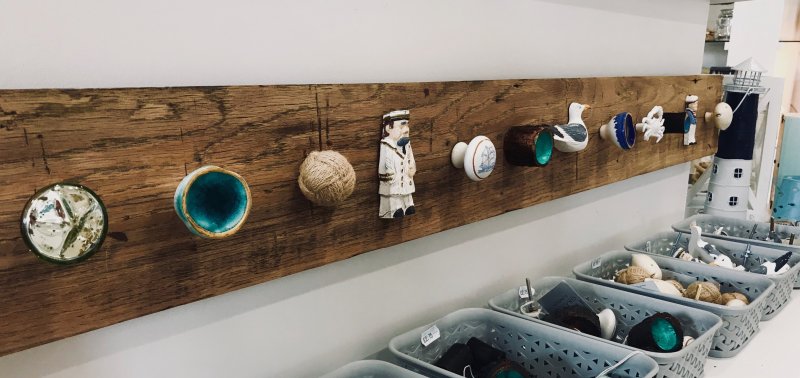 Dogs of the Week
As always we were visited by some absolutely gorgeous pooches throughout May and it's becoming harder than ever to choose our #DogOfTheWeek.
Last month we had Daf the Patterdale Terrier who absolutely loved his first visit to the Pier and even tried to have a go at the outdoor amusements! We also met Pippa the Pomeranian cross, who loves to be pampered and was snapped cwtching with her owner one afternoon at the Pier. We even had the pleasure of meeting Meghan the rescue dog during royal wedding week! A beautiful 3-year-old dog, Meghan absolutely loves spending time in our dog friendly Beach Hut café.
If you'd like to see your dog as one of our famous dogs of the week then send us your pictures from the Pier using #dogoftheweek and #loveyourpier.